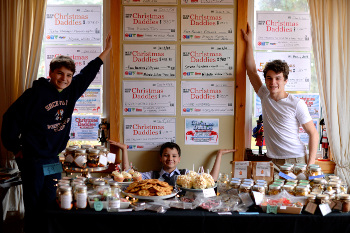 Our annual fundraiser at our home. 2015.
It started when I was 3 years old. I made 100s of sugar cookies. I mixed all the ingredients, pressed out the cookies and decorated them. My Mom put them in and took them out of the oven, but I did everything else - so I'm told. I raised $268 that year for the Christmas Daddies charity that provides Christmas gifts to kids who otherwise wouldn't get any. It was the start of a family tradition, that has morphed from sugar cookies into a variety of handcrafts and baked goods. My little brothers, Wills and Thomas, and I have raised $13,727.40 to date. I'm really proud of this accomplishment and never plan to stop raising money for Christmas Daddies and helping less fortunate kids have a nicer Christmas.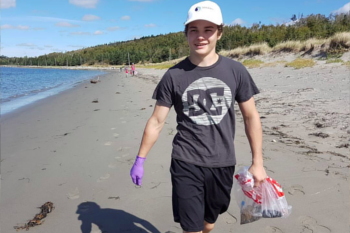 Collecting garbage during a McNab's Island beach clean-up.
Volunteering gives me a chance to give back to the community and help people. I wish I had more time to devote to volunteering. Being a math tutor, allowed me to strengthen my own math skills while gaining the experience of teaching a skill to someone else by sharing my knowledge.