Wrestling HIghlights

I am very passionate about wrestling, which may be the oldest competitive sport in the world. It is tough and challenging, both physically and mentally. I hope to keep developing as a competitive wrestler into my University years and beyond.
Wrestling has given me some great experiences in the few years that I have been competing.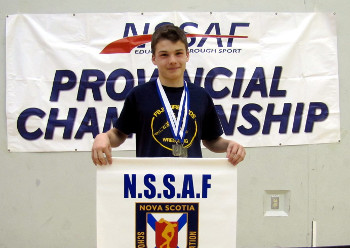 After winning my first provincial title in 2015. My school team won the provincial banner, as well!
I started wrestling in my Grade 9 year at Five Bridges Junior High. My friend, Jake, was on the school wrestling team and he was the main reason that I tried it out. Even though I had never wrestled before Grade 9, I soon knew I found something I loved. Within 3 months of my first time being on the mat, I won my first provincial championship and I was hooked! Once the school wrestling season was over, a friend told my Mom that if I really like wrestling, there was this thing called 'club wrestling' that ran all year long. I joined a local club and I have never looked back. My coaches Mike, Jesse and Rory have supported and coached me to land in places that I never knew were possible to be.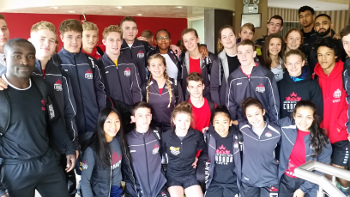 Team Canada!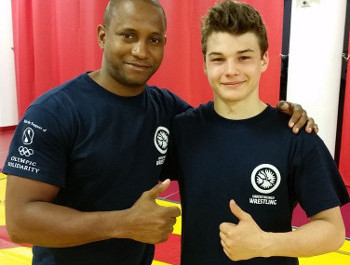 Me with 3-time Olympian, Juan Marén, who was coaching at an elite camp I attended after Pan Ams!! Juan speaks Spanish and I don't - at first there was a lot of gesturing and exaggerated motions to communicate. It wasn't until DAY TWO that we realized that we both speak French!
In 2016, I placed second in the 50 kg Greco Roman Canadian National Team Trials. This qualified me for a spot on the National Team to compete at the Pan Am Championships in Lima, Peru. It was an honour to get to know the best wrestlers in Canada as we spent time together in Peru. The coaches and other attending staff were exceptional, very helpful, supportive and I respect them greatly. I still keep in touch with many of the wrestlers from my time on Team Canada and I continue to be inspired by their achievements.
After the Pan Am Championships, I trained at an elite camp coached by Olympians and World-Champions. I was a bit star-struck! The opportunity to train with wrestlers who had trained differently than me was very good for my development.
After the championships and the camp in Lima I took the opportunity to travel inland to explore the Inca Sacred Valley and Machu Picchu. It was an incredible experience and it all happened because little more than a year before, Jake talked me into going to a wrestling practice to try it out. Thanks Jake!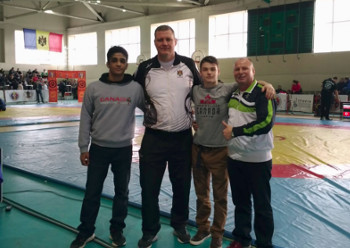 Here I pose with coach Grigore Gutsu, another boy from Canada and 6'5" 285 lbs Sergei Mureiko, former European champion and Olympic medalist. The 'Russian Bear' Aleksandr Karelin, who is considered the greatest Greco-Roman wrestler of all time, rated Mureiko his most difficult opponent - he was HUGE in size!
In 2017, a BC coach, Grigore Gutsu, had an opening for a wrestler to train for a few weeks at Liceul Internat Republica cu Profil Sportiv in Chișinău, capital city of the former Soviet republic of Moldova - Coach Mike suggested Coach Gutsu take me. I packed my bags and off I went half way around the world to Moldova! Wrestling is the national sport of Moldova and this sport school admits only the top athletes in the country. Coach Gutsu is Moldovian born, knows the language and is passionate about developing wrestlers. Not only were my eyes opened to a completely different culture with it's unique food and customs, I got to train with the best wrestlers in the country for weeks. The practices were 2-3 times a day and were grueling. At the end of every practice, the mats were slippery with sweat. Then we would go for long runs to round out the day. It was not unusual for European Champions, World Champions and Olympians to show up during practice to coach as if it was the most common thing! My daily training partners were ranked 1st and 3rd in Moldova. I learned lots of new techniques!
It was an incredible experience - one of the most amazing of my life.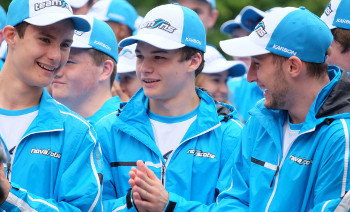 With my teammates at the Team Nova Scotia 2017 Canada Games Pep Rally.
Since day one, my long-term goal was to earn a position on the Nova Scotian team to compete in the 2017 Canada Games in Winnipeg, Manitoba. In June 2017, I won the 52kg spot on the team. My next goal is to wrestle my best at the 2017 Canada Games and win a medal. I am incredibly happy and honoured to have an opportunity to represent my province.