I am a senior student attending The Hotchkiss School in Lakeville, CT. I am taking Computer Science, Economics and Physics AP courses this year, all of which are fields that I'm passionate about. I love being pushed academically and am excited for all that I will come to achieve this year at my school.

My peers and I race for a boat in the rain - the first day of a three day wilderness camping trip.
The Duke of Edinburgh's International Award recognizes that not all education happens in the classroom. I have my Silver and Bronze levels already. The challenges I have completed to receive these levels are in volunteering, skills, physical fitness and adventurous journey. I hope to earn my Gold level next year.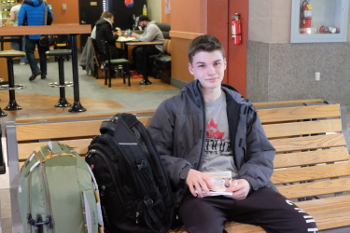 For two years I have been part of the Junior Achievement of Nova Scotia program. This program concentrates in three areas: financial literacy, workplace readiness, and entrepreneurship. Both years, my peers and I have developed small companies and earned a small profit each time. In the 2015/2016, year we made unique Nova Scotian jar candles, named Flambeau. In the 2016/2017 year, we made photo coasters (where clients provided their own images for the coasters) which we named Coastal Coasters. We made a website to collect orders online. I learned a lot about business and leadership in these two years.